The Brotherhood of Iron is an all dwarf guild dedicated to the defense of the 'Forge and all good Earthen where ever the need be.
Background
The Wyrmrest Accord branch of the B.O.I.'s was started within the first few days of the server starting up. The founder is Direbrew, a death knight. He is currently on a long sabbatical and is not expected to be seen for quite some time. The remaining, and new members, have taken up the mantle of dwarven defenders.
We help each other out, when needed and requested, with leveling, instances, gear and specs. We also assist in polishing each others backstory and personality.
We do a little bit of everything but not too much of any one thing.
We don't tell each other what they have to be, we only ask that they be the best that they can be.
While we don't raid strickly as a guild (waiting for v.4.0.3 release and the dwarven mages and shamans and 'locks, oh my!) we do raid using a mix of guildees and alts. We are heavy on tanks which leads to our in-guild joke that we should be named "Tank Guild" with Lori Petty as an honorary Iron Thane.
Contact any guildee that is higher than level 20 (level 80 preferred) for more info or an interview.
Involvement
It has long since the Cask and Anvil has been opened; the building left open for other to use. The Brotherhood has shifted its focus onto allying the Dwarven Clans under one banner.

The Brotherhood of Iron has found allies within the Order of the Golden Gear. Alliance requests will be welcome as long as they directly or indirectly help defend the 'Forge and Earthen interests.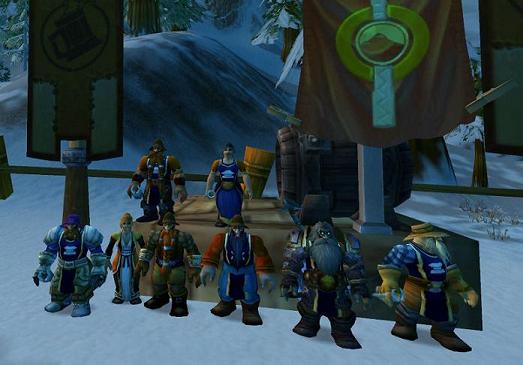 Guild Members
Some Notable Members;
Morashtak - Paladin - Co-Guild Leader
Adalbjorg - Priest - Co-Guild Leader
Claybeard - Paladin
Kegnok - Death Knight
Maelara - Death Knight

Eikoo - Death Knight

Azidren - Hunter

Grimlr - Warrior

Mattías - Warrior
Caedhera - Death Knight
Isleta - Hunter
Burandim - Warrior
Oswin - Rogue

Modarin - Paladin
Dumaine - Paladin
Prongs - Hunter
Ober - Warrior
Billyy - Priest
Kirryu - Hunter
Brennah - Priest
Balanor - Paladin
Kirja - Hunter
Onyxe - Warrior
Haulgar - Hunter
Brynnja - Paladin
Arindo - Hunter
Krandol - Warrior
Froydis - Rogue (Female, even!)

Bamgar - Paladin
Mairhen - Paladin
Halgan - Hunter
---
See also
External links
Ad blocker interference detected!
Wikia is a free-to-use site that makes money from advertising. We have a modified experience for viewers using ad blockers

Wikia is not accessible if you've made further modifications. Remove the custom ad blocker rule(s) and the page will load as expected.