There is a ragged paper tacked on a post near some bedraggled looking tents.
Welcome to the Brighmoon Faire Grounds. We are happy you have come to enjoy the biggest little show on the face of Azeroth (better than Darkmoons anyway.) We have performers! We have vendors! We have fortune tellers! ... pay no mind to the shady fellow by the tree, he is not looking at your coin purse at all ---- Come have an ale!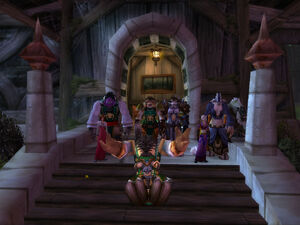 History
Founded by Owakeri Brightmoon, the faire lived on through the hard work of his daughter Lindiwe and her husband Astenya Brightmoon.
During the Cataclysm, much of the Faire was destroyed while enroute to a show in the Barrens.
After the dust had settled, some members of the faire lived one performing small shows and busking in even smaller towns.
Keyandros Highdawn got a hold of the rights to the Faires name in the year 623 and for a time, revived the Faire to its glory days. Even throwing a couple of seasonal bashes. However he was forced to give up on the fair due to lack of experienced performers.
Out of Character
Founded on January 20th 2009, Brightmoon Faire was one of the oldest roleplay guilds on the Wyrmrest Accord server. The Brighmoon Faire officially went on hiatus in May of 2015.
The primary focus was to promote public RP through planned events and through support of various community events. We were firm believers on the golden rule: RP is where you make it, and encourage all of our members to RP whenever and wherever they want.
Community Involvement
Besides performing regularly at various venues once a month, the Brightmoon Faire was found hosting or participating in numerous events, such as the Brightmoon FAIR Market (one of the first player run markets on the server), The Noble Bachelor (a yearly date auction), and the Brightmoon Faire Seasonal Bash (a quarterly party).
Owakeri and Lindiwe also headed up the first Gathering of Druids events on the server, which is still being run by Lindiwe to this day.
See also
External links