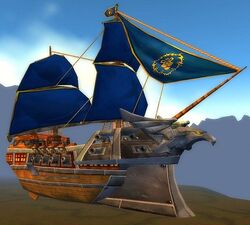 The
Tideripper
was one of the strongest ships in the
Royal Stormwind Navy
serving under
King Varian Wrynn
, most notably under the command of
Captain Elphias Davenwell
.
[1]
As one of the Alliance's premiere warships and renowned pride of the Royal Stormwind Navy, this ship was agile, fast, and carried 100 guns, making her a force to be reckoned with.
It currently serves as a flagship for the Westridge Brigade's naval forces.[1]
Crew
Elphias Davenwell - Captain
Daniel "Dirty Dan" Dundire - First Mate / Quartermaster
Rolf - Cabin Boy
Favreau - Chef
References
Ad blocker interference detected!
Wikia is a free-to-use site that makes money from advertising. We have a modified experience for viewers using ad blockers

Wikia is not accessible if you've made further modifications. Remove the custom ad blocker rule(s) and the page will load as expected.