News
October 19, 2018
After an extended hiatus to deal with real-life, we would like to welcome back founding admin Idhron to the Wiki.
March 4, 2018
After a short RL-induced hiatus, we would like to congratulate Oogaman on his elevation to Moderator, which is long overdue.
April 5, 2017
The Guild List's optional quarterly categories are up to date for the first quarter of 2018. If you are participating in this quarterly updating guild list, you should add the new categories to your guild and group pages (and remove the old ones). Check the Instructions page for more assistance.
News

archive.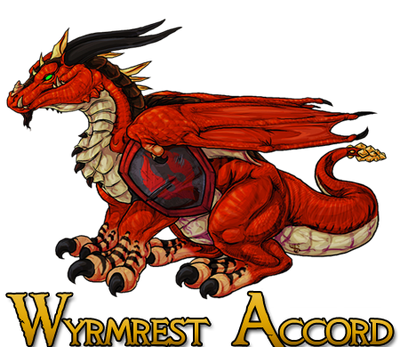 Wyrmrest Accord
is a
role-playing
player-versus-environment
server in the
MMORPG
World of Warcraft
, and is one of the largest and most active WOW RP servers. This wiki is used for storing roleplay and
IC
information regarding characters, art, player-created locations, and player-written stories, and player-created events created by Wyrmrest Accord community members. This site also serves as an index for all types of guilds on WRA, as well as acting as an information hub for the ever-changing server community.
Wyrmrest Accord does not have a server canon and players on WRA are not obligated to play along with anything posted on this wiki just because it's there. This wiki is for fun and networking, to show off your characters and find other players you might want to play with.
Policies
Edit, add, and help the site grow! As you contribute, please respect these guidelines.

Wikis depend on the open manner in which information is shared and modified. However, there are some guidelines enforced in the WA Wiki:
All content must be related to Wyrmrest Accord and, with the exception of guilds, be RP oriented.
Articles or edits that could be considered libelous or defamatory, or could be argued as harassment or vandalism shall not be tolerated by the wiki team or the Wyrmrest Accord community, and will be promptly dealt with.
Information in an article (pages that are not stories) should be relevant and neutral.
Pages that are not dedicated to stories or characters may be freely modified following the above rules.
Story or characters pages should not be edited to the extent that the original ideas are altered. If you are unsure if a change will alter the original context, contact the author for permission. Authors of such pages reserve full rights to request to have a page locked and unlocked by an admin.
Pages without adequate content one month from creation will be marked for deletion and deleted one month after that.
Purge cache to refresh this page.